‪مسارات للتنزه سيرًا على الأقدام‬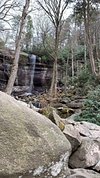 ما جائزة Travellers' Choice؟
يمنح Tripadvisor جائزة Travellers' Choice لأماكن الإقامة ومعالم الجذب والمطاعم التي تحصل باستمرار على تعليقات رائعة من المسافرين ويتم تصنيفها ضمن أفضل 10% من المنشآت على Tripadvisor.
Hi, our family of 4 adults (experienced hikers) will be visiting the Smoky Mountains over Christmas break. We are planning to hike Rainbow Falls. For planning purposes, how long do you think it would take to complete the 5.5 miles? (Note: I walk about 3.5 miles daily, and it takes me about 45 minutes, but not sure with the uphill how much time i should allow for this trail). Thank you in advance!
Hi - similar to yourself, I walk around 5 miles per day and when we planned the Rainbow Falls hike it did take longer than expected. It probably took us about 90 minutes up and around 60 minutes down. This was mainly because it is uphill for a lot of the hike (and of course we kept stopping to enjoy the wonderful forest that you're hiking through). We hiked here in September and so the heat also slowed us down. I'm not sure what sort of weather you can expect in this area in December so please check that the hike and the roads are safe and accessible. And have fun...!!
---
Are dogs allowed on the trail if on a leash?
No, dogs aren't allowed on any Smoky Mountains Park trails.
---
What's your opinion about taking a 5-year-old on this, or part of this trail? Are there worthy stops along the way that serve as a good ending point? Or, is there a "must get to spot" at the end? 3 hours for adults = 4+ with a 5yo, I'm guessing. Cheers, Wade Louisiana
This trail starts out along a creek but then diverges into the forest with lots of switchbacks. I was just there about 3 or 4 months ago and it was our 2nd time to the falls. The first time we took the hike our youngest was 5 or 6. She made it most of the way without being carried. That being said it is a very tedious and bland hike most of the way and there really isn't much to see past the beginning until you get to the falls themselves. Also there are lots and lots of rocks and boulders you have to climb over on the way up. I would opt for Laurel Falls which is partially paved though it does get narrow with a steep drop off nearer to the top. We took our kids on that hike when they were very young and there are lots of parents with smaller kids on that hike; it's a shorter hike and the falls are much better. Have a wonderful time and welcome to Tennessee!
عرض الكل
تعليقات حول ‪Rainbow Falls Trail‬ - ‪Great Smoky Mountains National Park‬, ‪Tennessee‬ - Tripadvisor