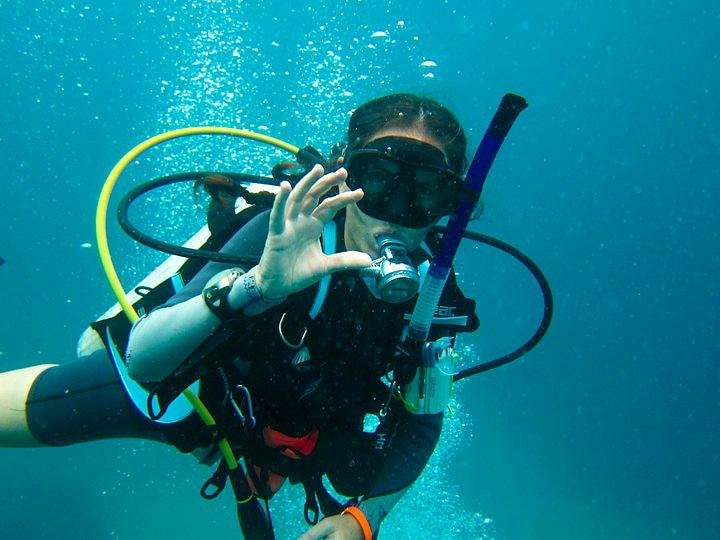 نبذة
تستوفي إرشادات رعاية الحيوان
---
‪Blue Guru Dive Centre‬
الحجز غير متاح على Tripadvisor
هل تود خيارات أخرى يمكنك حجزها الآن؟
عرض الخيارات
I'm going to Phuket next week & I was wondering if I could take a snorkeling or diving tour to the Similn islands, that leaves from Patong. Also, is it possible to see sharks, sea turtles & whale sharks, & other sea animals besides fish while snorkeling? Or it's only through diving where you can see sea animals besides fish?
All diving liveaboards to Similan Islands depart from Khao Lak (about 1 hour north of Phuket airport) - see Blue Guru's liveaboard webpage for itinerary options. You may see turtles whilst snorkelling. Sharks are usually seen more when diving. Whale sharks & manta rays are rare but this is the best time of year to spot them. If you want to increase your chances of seeing them, you should join a dive trip including Richelieu Rock, Tachai & Koh Bon. If you just want to snorkel, then you could consider a 3d2n snorkelling trip to Surin Islands where there are potential chances seeing juvenile blacktip reef sharks and hawksbill & green turtles. Details can be seen on Blue Guru's snorkelling webpage. Of course, do bear in mind that no marine life sightings can be guaranteed, as trips are in nature not an aquarium.
---
We'd like to dive with Blue Guru but we can only find liveaboard trips on the website. Do you do day trips from Koh Pra Thong?
Blue Guru can no longer offer diving day trips from Koh Phra Thong because the new owner of Horizon Eco Resort stole their dive centre buildings. They can however still arrange diving packages including a liveaboard trip, transfers and accommodation at the superior Moken Resort on Koh Phra Thong. Submit an enquiry via the liveaboard page of the website for a tailor-made package.
---
We are considering staying at the Nangthong Bay Resort and want to go snorkeling. Are you close to this resort? Do you take folks snorkeling? All the reviews only mentioned diving. Thanks in advance for any info you can provide.
Blue Guru Diving has snorkelling packages too -- check their website. My husband doesn't dive so when we go on their offshore trips, I sometimes do a combination snorkel + package trip so I can spend time underwater with my husband too. Nangthong Bay Resort isn't near Blue Guru Diving unfortunately.
عرض الكل
تعليقات حول ‪Blue Guru Dive Centre‬ - ‪Phang Nga‬, تايلاند - Tripadvisor