‪الرحلات النهارية‬ • ‪جولات مشاهدة المعالم‬ • ‪جولات ثقافية‬
تم الإبلاغ عن إغلاق هذا الموقع بشكل دائم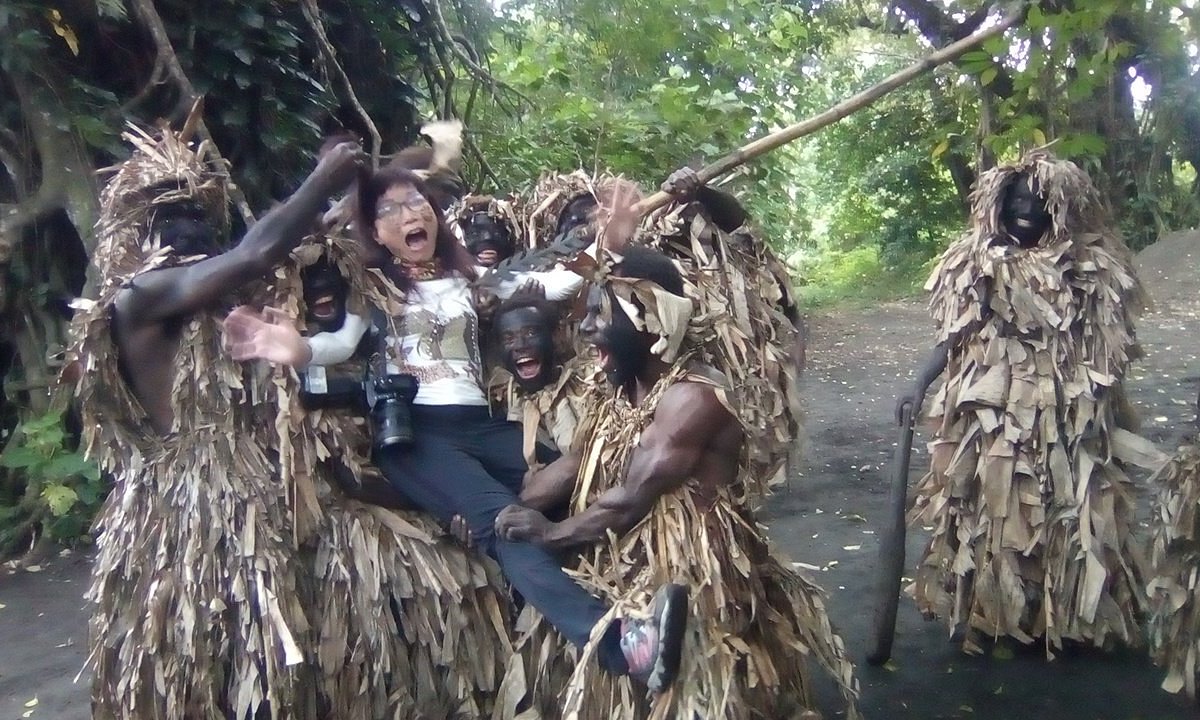 نبذة
‪‪Tanna Island‬، جمهورية فانواتو‬
---
---
---
‪أغسطس 2019‬
‪The Path Less Traveled is an amazing experience, and one which just cannot be missed. For those who enjoy a bit of adventure, and want to get away from the tourist traps, this is certainly for you - plus it's all organised for you, the money goes straight to local operators and you truly get to see the best of this amazing island.

You start at White Grass Airport where you get picked up by one of the members of Yakel village, we had Dena who is very funny and lovely - up for a good chat! You pass through the main town of Lenekal, and depending on the day - you can stop in at the market and pick up some delicious fresh fruit or veggies as a snack for your trip, make sure you have small Vatu notes, or better yet, coins as the mama's don't have much change. (Market days are Monday, Wednesday and Friday, and the atmosphere and bustle of the market is amazing!)
You will travel by truck/ute up to the village - your first stop. The road up to Yakel village is a bumpy one - but you get to see so many local people, how they live and experience what they need to traverse everyday - normally on foot!

Yakel village is a special place, it is a custom village where they try to maintain a traditional vanuatu life, they would be happy to sit and speak with you about how they live, and you will also get to experience a custom dance - a not-to-be missed experience. I do recommend that you join in! It's also the village where the incredible film Tanna was filmed - if you can watch it before you get there you should try - as you will meet some of the stars!

The accommodation is traditional bungalow, and a bit chilly in the winter months so bring some long pants and a jumper, it's not a 5-star resort, but is definitely an amazing experience to be able to stay in the village - off the beaten path after all!

The next day you will start the hike to Imaio cultural village near the volcano. It is a moderate hike, some hills and might be difficult with a lot of rain - bring jackets and lots of water if it is the rainy season! The humidity can be brutal! The walk will take about 4.5 hours if you have a stop on top of the biggest hill - but then get the most amazing view of Mt Yasur - the volcano of Tanna. Most of the paths are small pig-trails (you will be grateful for the local guide!), but it's amazing to experience the land change. Your guide will speak Bislama and some small English or maybe French - be patient, and ask questions - their knowledge of the country is incredible! You travel through a lot of small villages where people might not see many tourists, they will likely stare - but smile and wave and you'll get some amazing smiles and laughter in response!

Next stop - Imaio! You will arrive around lunch and get to sit in the Nakamal and enjoy the incredible view of Yasur. This is when I had a nap and relaxed - I was a little tired after the big walk! If you are interested though, there are wood carvings for sale, and the bungalow owners are happy to organise some Kava to drink, and teach you about laplap and other traditional food. I stayed at Volcano Village Vista - Richard's Place - and I can't speak highly enough of the staff, and the food. But the view of the volcano as the sun goes down is certainly not to be missed - it's actually stunning. Listening to the rumble and enjoying the experience of the natural beauty before you visit it up close the next morning.

The next morning (with a 2.30am start!) is to the volcano! Many tourists go to the evening volcano tour - which always has 40+ people - and has a small custom dance to start. But don't worry - you will not only have the volcano to yourself (only 5 people on my tour!) but the custom dances in Yakel are twice as long and more special then the evening volcano tour (I know - I am lucky enough to have done both!)

Try to ask to visit the 1st or second point (go left on the volcano - rather than right) as it has the better views, but can be unsafe if it is a windy day. The sun will rise in front of you - and the photos are incredible! Check out the neighboring islands on a clear day, and get the guides to talk about the "real story" of the Tanna movie! For the best experience, don't wear contacts (lots of grit) and take a scarf to cover your face during the explosions - in-closed shoes are recommended but it isn't a difficult walk to the top (mostly it's by truck).

You'll end up back at your bungalow for breakfast and maybe a small rest (or spell - in Bislama) before heading to the hotsprings in Sulphur bay, where you can sit it in the water and rest your tired bones. (Be considerate of the locals, and wear some shorts and a shirt rather than your bikini - Vanuatu is conservative in their dress codes!)

Then it's back to the airport (another bumpy road - and some great photo opportunities on the beautiful ash plains!)- and the end of the tour.

I cannot recommend this experience enough if you want some truly unique experiences away from other tourists. The price is also very reasonable - and is calculated on the rates of each part of the tour separated, and all of the money goes back to local people.

For a brilliant, traditional Tanna adventure - definitely take the path less traveled!‬
كُتب بتاريخ 5 سبتمبر 2019
يعبر هذا التعليق عن الرأي الشخصي لأحد أعضاء Tripadvisor ولا يعبر عن رأي شركة Tripadvisor LLC. يجري Tripadvisor عمليات تحقق حول التعليقات.
---
بمفردك • ‪مارس 2019‬
‪This was a very average experience with tanna travel. I booked two airport transfers, volcano ashboarding and a kava tour through this organisation. The first thing to understand is schedule and time mean nothing. When I arrived I waited for them to call the driver to come pick me up and upon leaving I asked for a transport at 8am with them showing up at about 9am. Although they always took me to the right place and we're very friendly. The volcano ash boarding was a gong show. The day I was supposed to go was raining so they said call anytime and we'll reschedule. I ended up going the next day. They asked me to pay there after already paying online, then informed me that the "ashboarding" tour did not in fact include ashboarding meaning that I had to pay for the actual tour I wanted which ended up being half the price. I have asked and am currently waiting to receive a refund on this as I had to pay for the tour I wanted on top of the tour I was misinformed on and did not even use. You were also given more of a sled or toboggan rather than a board. On the plus side you did get to climb right to the edge of the crater and watch the cracks as the volcano puffed to your side. Finally the kava tour was amazing, a true cultural experience, they told me to be ready for 11am and showed up at 8:30am but after being there and touring this native village you were dressed in traditional clothing and drank kava with the chief. By far my favourite experience. ‬
كُتب بتاريخ 29 مارس 2019
يعبر هذا التعليق عن الرأي الشخصي لأحد أعضاء Tripadvisor ولا يعبر عن رأي شركة Tripadvisor LLC. يجري Tripadvisor عمليات تحقق حول التعليقات.
تعليقات حول ‪Tanna Travel‬ - ‪Tanna Island‬, جمهورية فانواتو - Tripadvisor