تعليقات حول - ‪Ichtucknee Family Canoes and Cabins‬, ‪Fort White‬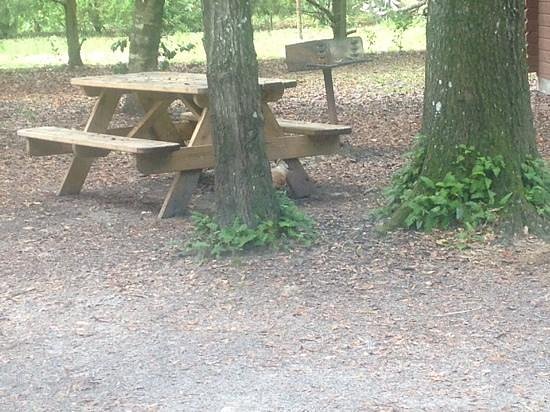 نبذة
‪‪Fort White‬، الولايات المتحدة‬
‪Ichtucknee Family Canoes and Cabins‬
الحجز غير متاح على Tripadvisor
هل تود خيارات أخرى يمكنك حجزها الآن؟
عرض الخيارات
---
---
العائلة • يونيو 2022
‪Generally run down. Stayed here in our fifth wheel for 2 nights and we were unimpressed. Found the older lady in the office/general store to be pleasant but the young man was not nice. He got a little snippy with me, unnecessarily so. Out of a 20 day RV trip into South Carolina and back down to Florida this was definitely the park we enjoyed the least. Bathrooms were dated and felt unclean, fire ants everywhere, neighboring campers were up partying until 2am playing music, and the playground was underwhelming. Extra star for it's proximity to the south entrance of Ichetucknee river that includes the headwater's swimming area and Blue Hole. Will not stay here again.‬
كُتب بتاريخ 26 يونيو 2022
يعبر هذا التعليق عن الرأي الشخصي لأحد أعضاء Tripadvisor ولا يعبر عن رأي شركة TripAdvisor LLC.
---
يوليو 2021
‪Don't make any plans. We received a call from them 2 days before we where going to arrive telling us that the cabin we had paid for and reserved was double booked and that they where going to cancel our reservation and credit us our money back. "That is not the way things work, you pay for a cabin and reserve its yours" They replied you will get a credit back and you have to days to unpack. Nice! tell that to my kids.‬
كُتب بتاريخ 14 يوليو 2021
يعبر هذا التعليق عن الرأي الشخصي لأحد أعضاء Tripadvisor ولا يعبر عن رأي شركة TripAdvisor LLC.
---
فبراير 2021
‪we stayed here with a group that had rented the entire campground. It rained on us almost the entire weekend, but we didn't care. what a great weekend.‬
كُتب بتاريخ 25 أبريل 2021
يعبر هذا التعليق عن الرأي الشخصي لأحد أعضاء Tripadvisor ولا يعبر عن رأي شركة TripAdvisor LLC.
---
مايو 2020
‪If I could give this place negative stars I would. Due to COVID19, I could not attend for our Cabin Reservation in May 2020. I tried multiple times to contact the cabin mgt to inform them of alternative options since our NATION was under quarantine orders however I was unable to reach anyone. My reservation happened to land on the same week their cabins reopened to the public and I was finally called to confirm whether I was going to show. The owner's mother must have been the one to call me and she assured me that I could reschedule my reservation, forward my current deposit to my new reservation and reschedule with no problem. Today, I called to reschedule the reservation, and TRACY who identified herself as the "Owner" and "President" of the organization advised me in an extremely rude manner that I could not reschedule, I lost my deposit, and that I "ditched" my reservation. This woman was extremely rude, unhelpful, demonstrated a complete lack of compassion and understanding for the current situation going on in our country and the current chaos of protesting and new city curfews being established in the state of Florida. There was no way we could travel to the cabins this past weekend and she refused to reschedule despite her own mother telling me we could. Her customer service skills are GARBAGE and she should be immediately removed from her position as "president", "Owner" or whatever position she truly holds. She literally only responded to complain to me about how much money in profit she lost for the cabin rentals. I will never attend a facility that lacks that much empathy for its customers. So if you're looking for a place to rent/cabin. I found some gorgeous Cabin specials on AIRBNB. you should look into them and research/consider all your options before making a decision.‬
كُتب بتاريخ 1 يونيو 2020
يعبر هذا التعليق عن الرأي الشخصي لأحد أعضاء Tripadvisor ولا يعبر عن رأي شركة TripAdvisor LLC.
---
بمفردك • أكتوبر 2018
‪Located in close proximity to Ichtucknee State Park, the cabins are rustic but very clean, with electricity/ a light, air conditioning, 2 double beds and table with chairs on a concrete floor. I went on a weekday and the place was deserted. The bathrooms and showers were clean, although in the corners of the bathhouse stalls there were some pretty hefty spiders which made using the toilets a hair raising experience for this arachnaphobe. (None at all in the cabin.) There is a small convenience store on site that carries snacks, drinks and pretty much anything you might need to get by. I went tubing my first day and kayaked the second day. Both days I rented the equipment from the cabin store rather than the park and the staff was awesome, dropping me off and picking me up at the park, super friendly and helpful. There is a tram located at the park that picks you up at the end of the tube/kayak run and takes you and your gear back to the start for $5. I was literally the only person on the river at times both days. It was absolutely magical. There is a blue hole at the park also- bring snorkel gear! Definitely a worthwhile trip and tons of fun for the money.‬
كُتب بتاريخ 21 نوفمبر 2018
يعبر هذا التعليق عن الرأي الشخصي لأحد أعضاء Tripadvisor ولا يعبر عن رأي شركة TripAdvisor LLC.
---
الأصدقاء • أكتوبر 2018
‪Great location for camping - tubing the River. Close to the North entrance of the Ichtucknee State Park. Rustic / shady campgroun. Staff/owners are very helpful.‬
كُتب بتاريخ 23 أكتوبر 2018
يعبر هذا التعليق عن الرأي الشخصي لأحد أعضاء Tripadvisor ولا يعبر عن رأي شركة TripAdvisor LLC.
---
الأصدقاء • مايو 2018
‪Our Boy Scout Troop stayed and had to pack up in the middle of the night to return because it was not safe for our Scouts. Group of older teens harassing, bullying and intimidating young Scouts and adults in campsite. Two other troop present also experienced the same behavior. No onsite security and property owners contacted several times who did did show until well after Police contacted and departed after escalation to a physical altercation after a teen slapped an adult Scout Leader. Drunken and drugged out parents of harassing teens were also combative threating 11 and 12 year old Scouts. Police and owners would not take action to expell the menissing group of teens and parents from the campground. Our Scouts were picked up safely by parents at 3am the next morning. DO NOT STAY HERE.‬
كُتب بتاريخ 13 مايو 2018
يعبر هذا التعليق عن الرأي الشخصي لأحد أعضاء Tripadvisor ولا يعبر عن رأي شركة TripAdvisor LLC.
---
العائلة • مارس 2018
‪I own kayaks, and it is easier to come to the Ichetucknee and rent from these fine folks! They load the kayaks on trailers, put you in a van for the short ride to the river, put the kayaks in for you, then come pick you up at the end of the trip, bringing you back to your car. And all for $16 per person!! Tracy and John were so nice and helpful, the kayaks are fine; stable, easy to paddle, and sturdy enough to make even a novice feel safe. I cannot recommend them enough! We had young grandchildren, and all was good! The Ichetucknee itself is spectacular. My only hesitation in recommending it is that many might come, and disturb the tranquility of this wonderful resource.‬
كُتب بتاريخ 1 أبريل 2018
يعبر هذا التعليق عن الرأي الشخصي لأحد أعضاء Tripadvisor ولا يعبر عن رأي شركة TripAdvisor LLC.
---
زوجان • فبراير 2018
‪We used this service to shuttle our vehicle and trailer to the take out point from the state park north ramp. The people were great, very helpful with unloading and helping us launch our heavy tandem kayak. Would definitely use their services again for sure. We didn't camp or stay there so can't review those services.‬
كُتب بتاريخ 15 فبراير 2018
يعبر هذا التعليق عن الرأي الشخصي لأحد أعضاء Tripadvisor ولا يعبر عن رأي شركة TripAdvisor LLC.
---
الأصدقاء • سبتمبر 2017
‪This was my second visit: the first was with young children in April 17. The kids had a blast. Good and efficient , well located for the Ichetucknee River. Very flexible and helpful in choosing canoes, kayaks and rafts. They take you to the State Park, put the boats in the water for you, and then pick you up at the other end. A not to miss 2 1/2 hr water trip through paradise.
If you are qualified you can scuba dive into the 40ft+ deep crystal clear underground spring. ‬
كُتب بتاريخ 21 سبتمبر 2017
يعبر هذا التعليق عن الرأي الشخصي لأحد أعضاء Tripadvisor ولا يعبر عن رأي شركة TripAdvisor LLC.
---
Have the bathroom conditions been improved since the bad reviews?
The bath house shower stalls have been re-tiled. The bathroom toilet stall doors could use new locks though. The problem as I see it, is the campers who use the facilities and do not clean after themselves. I don't believe that is the owner's responsibility to have to go into the bath house every hour to flush un-flushed toilets or pick up paper from the floor lying right next to the trash can. What happened to personal responsibility...for goodness sake people, please pick up after yourselves. The bath house IS cleaned daily. It is rustic but that's part of the charm. I prefer to stay at this family owned and operated campground where they know me by name, than the larger overcrowded campgrounds. I wish I had pictures, but hoped this helped.
---
How I this place compared to Ginnie Springs as far as the partying? I have read so many things about Ginnie Springs just being a place for partying for college kids. That is NOT what we are looking for as we are a family with small children. Is this place calmer?
This place is certainly quiet. When we went there in December 2014, it was mostly families, the camping ground as well as the actual springs. That being said, if a bunch of college kids do land up there, it would certainly not be quiet anymore. :-/ I have not been to Ginnie Springs. So I cannot speak from that perspective.
عرض الكل