نبذة
المدة المقترحة
ساعة - ساعتان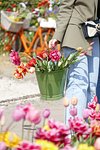 Hi! Are we able to visit without a tour company? Just as a couple, wanting to see the tulip gardens?
Hallo Shivanise, It's a very sad, but I read this question to late. I think you don't come back next year?! But you can visit our company in springtime with T&T tour company from Amsterdam to us. In autumn you can come also to buy tulip bulbs. Kind regards, Daan and Anja
---
Are there any tulips out in the fields now?
They are starting to groet right now.
---
hi, i will be coming to amsterdam on 18-19, i know the keukenhof opens until 21 may 2017, however, getting in the park isn't my greatest interested, i was wondering if the flower field in the area still open and which one is still open, can i rent a bike and cycling there for free? (i know renting a bike costs money, but how much would it cost to visit the flower field?) thank you please advice me
Hello, Sorry, I think there are no flowerfields anymore. We are open till 15 may. You only can see flower in the Keukenhof. Kind regards, Anja Jansze
عرض الكل
تعليقات حول ‪De Tulperij‬ - ‪Voorhout‬, هولندا - Tripadvisor